Executive - MBA
---
Applications to October 2023 Batch is open Apply Now!
---
About Us:
Dayananda Sagar University, a part of the larger Dayananda Sagar Group of Institutions was set up with an ethos of providing quality education to every Indian who aspires to pursue higher education.
Dayananda Sagar Institutions was founded by, late Sri Dayananda Sagar at a time when educational opportunities were limited and difficult to access. With a legacy of close to seventy years, the group of institutions stands out as an inspiration and a beacon of success in the area of educational entrepreneurship. As a private university, the Dayananda Sagar University is a shining example of great vision and good governance.
The Dayananda Sagar Institutions have fuelled the growth of Bengaluru as an international destination by mentoring within its portals young men and women who have done exceedingly well as leaders in the industrial world both in India and abroad. The university strives to create and innovate and comes with wonderful infrastructure – innovation centers, laboratories, incubation centers and a start-up eco-system that is unparalleled. Executive Education is an important vertical for the university and caters to the working professional, offering a wide bouquet of programs that allow the executive to acquire new skills and improve their managerial competencies.
---
B School Ranking : 2023
Business World has ranked us as follows in the Top B Schools Rankings published on Feb 04, 2023. Dayananda Sagar University B School is ranked 61st nationally in the overall ranking, against a total of 146 B-Schools that were eligible in the country. The ranking among top private B Schools is 43/163 and in the South of India, it is 17/54.

We are proud to have broken into the top 50 Private B Schools in India.
---
Proud moment for Dayananda Sagar University
Proud moment for Dayananda Sagar University, SCMS(PG) which has been ranked as #12 among Emerging Best B - Schools in India by The Weeks / Hansa Research Best Business School Ranking Survey 2021. This is a huge achievement for a fledgling B - School and is testimony to the efforts of my faculty and staff, the support of the management and founders and the involvement of our students and alumni. We are in brilliant company with a few of the new IIM's. The school has also been ranked as the 6th Best B School in South India and 4th Best Business School for Industry Engagement in Bengaluru by Silicon
---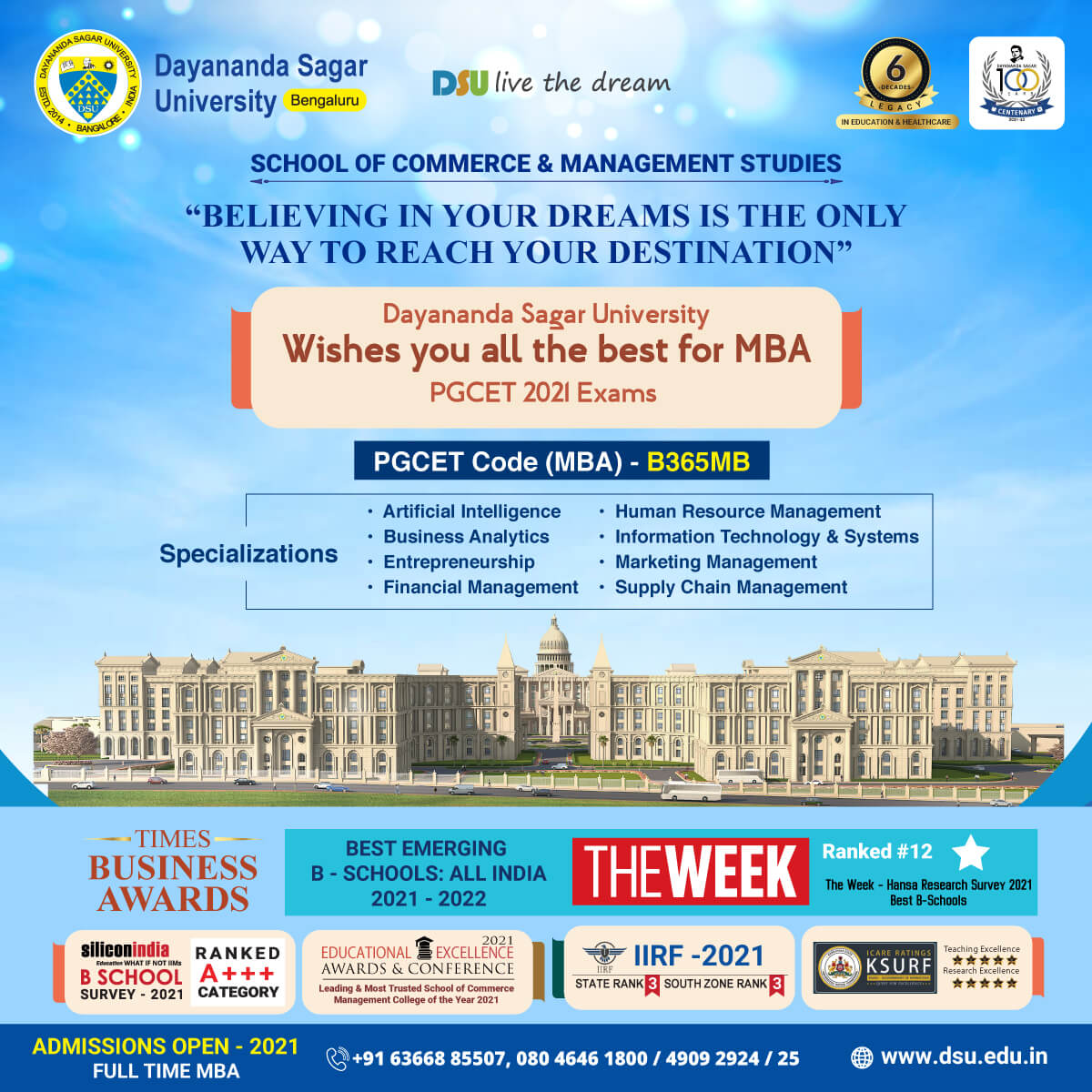 ---
---